Centurion Foundation News
The Winter grants have been awarded. Congrats to Baseball, Basketball, Marching Band, Boys Soccer and Girls/Boys Water Polo. Check out our accomplishments page for all the details.
Next Meeting

New Location !!
Our next meeting will be held in the UCHS Bungalow B1 on Tuesday, March 13th from 6pm-7pm. All are welcome to attend!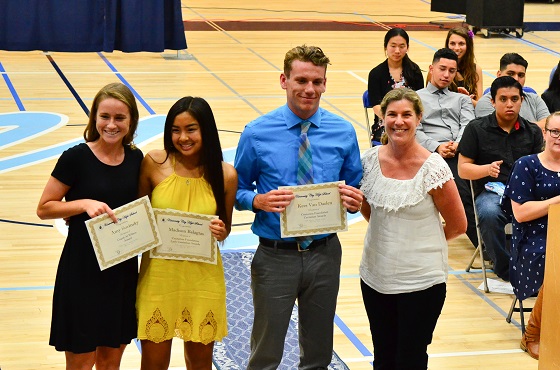 Congrats to the Centurion Foundation's 2017 Scholarship Winners!

Coach Al Wilson: Amy Sovinsky, Centurion: Kees Van Daelen, Lady Centurion: Madison Balagtas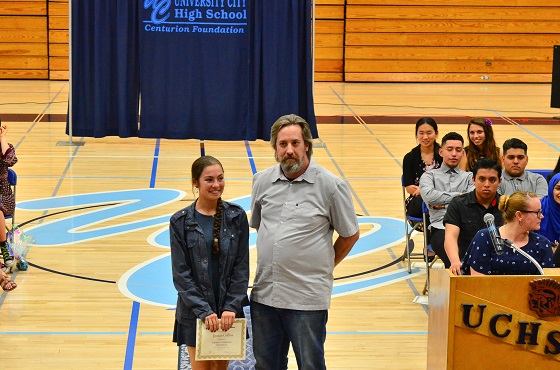 Congrats to Jordan Collins, recipient of the Competitive Academic Spirit Award
The Competitive Academic Spirit Award was started in 2015 by an anonymous donor in honor of Mr. Huszar's Teacher of the Year award. This scholarship is awarded to a senior, selected by Mr. Huszar, who strives for academic excellence not only in the classroom, but also through participation in extracurricular activities and competitions such as the UCHS Academic League Team, the UCHS Math Team, the American Mathematical Society annual competition, and the UCSD Honors Mathematics competition.
---
UC Athletic Groups and Clubs
2016 / 17 Centurion Foundation Grant Recipients
The Centurion Foundation of UCHS is a non-profit 501(c)3 organization dedicated to supporting the UCHS Departments and Clubs, students and families of our school community. Our primary mission is to enrich our children's extracurricular activities that are a vital extension of their daily school experience. One ways this goal is accomplished is to offer Grants each season. This spring, Centurion Foundation was able to fund all grant requests. Thanks to all who support the Centurion Foundation! For the full list please see our Accomplishments page.
css image gallery lightboxby VisualLightBox.com v6.1
---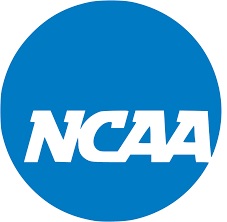 On Tuesday Oct 11, the Centurion Foundation presented an NCAA informational evening. Two representatives from SDSU - Bobby Smitheran and Ashley Sloper - spoke to both parents and students on Division I and II eligibility and the admissions process. Here are links to the presentaion materials from that night. Prospective Student Athlete Handout(PDF) and the UCHS Presentation (PowerPoint)
If you have suggestions for future events or would like more information please email programs@uc-centurionfoundation.com.
---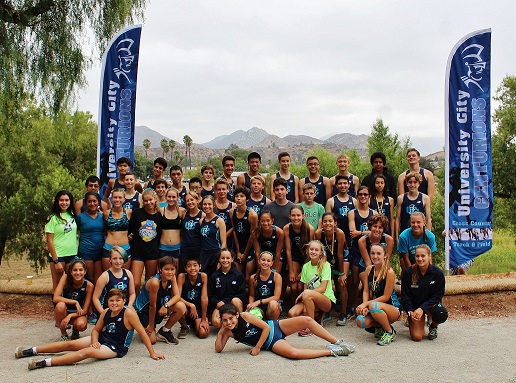 Cross Country & Track and Field love their new banners purchased with a Centurion Foundation Grant.

"Such a great way to represent our school, and our talented athletes, as well as show some UC spirit!"-Julie Halter, UCHS parent.
The Centurion Foundation is Proud to Support University City High School
The Centurion Foundation of UCHS is a non-profit 501(c)3 organization dedicated to supporting the UCHS Athletics Departments and Clubs, students and families.
Our primary mission is to enrich our children's extra-curricular activities by your vital tax deductible donations.
We need you! There are two ways you can help: 1) Join the foundation or 2) donate online. Both ways support our UCHS clubs and athletics!
You can support UCHS and the Centurion Foundation's mission to enrich our students extracurricular activities by becoming a member of the Foundation.
Click here to fill out the form and mail it in today!

Or, you can donate using the PayPal Option below.
Donor acknowledgement letters for tax purposes will be given for donations of $250 or more following the end of the calendar year of the donation. Cancelled checks or PayPal receipts for amounts less than $250 should be sufficient for IRS documentation.
For inquiries regarding the Foundation's EIN number, please contact:
treasurer@uc-centurionfoundation.com
Centurion Foundation 2017 - 18 Board Members